Albino Animals
---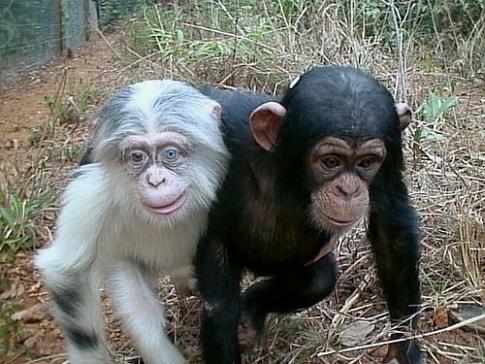 Albino animals are extremely rare and unusual. They have all the characteristics of others of their species except they are all white in color. Not one inch of their natural coloring comes through as their bodies are unable to produce a pigment known as melanin. Melanin creates the normal pigmentation and coloring in an animal's skin, fur or scales. This lack of melanin generally results in the animal looking bleached all over, appearing white or pink.
Being white doesn't mean an animal is albino. The true test is in the eye coloration. All albino animals have pink/red eyes whereas white animals with blue eyes are called leucistic, which means they may have a reduced amount of pigmentation in relation to a normal specimen of their species but it is not as severe as albinism. We have some of both pictured here.
Albinism is an inherited trait and is passed from adult to young. An albino offspring is formed from a specific combination of genes coming together in any species. Albinos are rare because the genes which cause albinism are recessive and rarely occur.
Approximately three hundred species across North America have albino members. There have been sightings of albino snakes, racoons, frogs and deer. It's believed for every 10,000 mammals born, 1 will be albino and this shows how rare the condition really is.
Some famous albino animals include:
Snowflake – the world's only known albino gorilla kept in Barcelona Zoo. Snowflake lived 39 years and passed in 2003 after suffering with skin cancer. It's widely believed that Snowflake was the world's most photographed animal.
Onya-Birri – a koala-bear kept at the San Diego Zoo. His name means "ghost-boy" in an aboriginal language.
Lightning – a deer born in Stirling in Scotland. Named Lightning because of his color and because he was born during a storm.
White Diamond – the world famous albino alligator who called the Serengeti park in Germany his home.
These animals are an exciting rarity that we should always feel privileged to witness.