Hairy Armadillos
---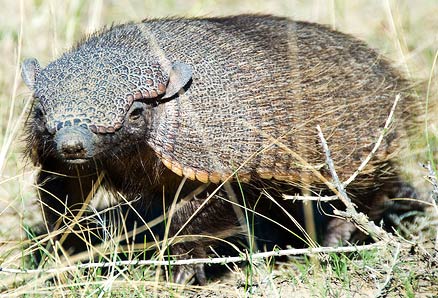 There are several species of well-named hairy armadillos - The Big Hairy, the Screaming and the Andean Armadillo. And yup, you guessed it, they all have some long hairs sticking out from under their armored plates.
Are hairies the most handsome of armadillos? I don't know the Pink Fairy Armadillo and the Giant Armadillo might have something to say about that, I am not sure they would agree. A beauty contest may be in order.
All the hairy dillos live in South America. The Andean lives in the Andean region, mostly in Bolivia but there are a few in Peru and Argentina. The Screaming Hairy Armadillo gets its name from squealing loudly whenever danger approaches.
Like their cousins these dillos use their claws to dig up insects, worms and a few other vegetable delights. They also dig burrows for sleeping grounds and use their armor for protection.